Papa Roni's – Un-Chaining Your Pizza
Since its inception in 2010, Papa Roni's co-founders, Bob Wilson and Dan Urbancic, had a mission – To be able to deliver the desirable business attributes of a well-refined chain operation while retaining the adaptability, community-friendliness, and hands-on involvement of a locally run pizza shop. In our words, we wanted to "UN-CHAIN" your pizza. Papa Roni's Pizza was from its inception and continues to be all about good people – the people who make our food, the people who deliver it, and especially the people who love it and eat it – our customers.
One of the first steps in creating Papa Roni's was to allow customers to help shape our pizza and product offerings. We knew that the franchised chains often fail to suit local tastes because they must rigidly adhere to corporate recipes, product offerings and even pricing that is determined at an office hundreds of miles away. Papa Roni's instead conducted taste test panels of local people to sample, review and help us hone our recipes – right down to the very sauce, cheese, pepperoni and sausage that we use today, all of which are among the freshest and highest quality. The result is a pizza that is distinctively different and once it's been tasted, has proven to be passionately enjoyed by a wide range of people. Our goal was never to find the cheapest way to make a pizza, our goal was and remains to consistently be the BEST.
Being an independent local business has given Papa Roni's the ability to innovate and add or change product offerings without the restraints of getting corporate reviews and approvals like chains have to do. Since our humble beginning in 2010, we've gradually added numerous new products and refined some of the originals. The 2013 introduction of our delicious new authentic Gyro sandwich has been a huge success with our customers. The Gyro is a perfect example of an advantage of being local and independent. By contrast, a chain with its headquarters in say, Kentucky might be unlikely to even be aware of this great ethnic product that is much-loved here in NE Ohio. Our specialty pizza list continues to grow and now features over a dozen choices with the addition of items like our exclusive Youngstown, OH –inspired "Brier Hill" pizza, the 5-Cheese Pepperoni and the Philly Chicken. We continue to work on researching, developing, and testing new products that our customers tell us they want. So, watch for more!
This isn't to say that everything about chain restaurant operations is bad. In fact, Papa Roni's utilizes many of the systems and procedures employed by chains that are often ignored by smaller local pizza places. Every product we make has a very specific portioning and preparation method so that you consistently get what you have come to love and expect from us. Customers usually have their favorite places for a reason and one of them is consistency – your favorite food should look and taste very similar each and every time you get it. If you order a large pizza with pepperoni from Papa Roni's, it will be made with the same number of pepperoni slices, the same portion of cheese, and the same amount of sauce each time you order it – so there are no disappointments. Papa Roni's embraces and uses sophisticated technologies and systems for taking, processing and delivering your orders – whether they be phoned in or made through the online ordering system available on our website. We always offer reliable speedy delivery by clean, courteous drivers or your choice of using our convenient on-site pick up window service. Of course, we always welcome you to stop in our lobby and get to know us too! We always strive to make the customer experience as convenient as possible.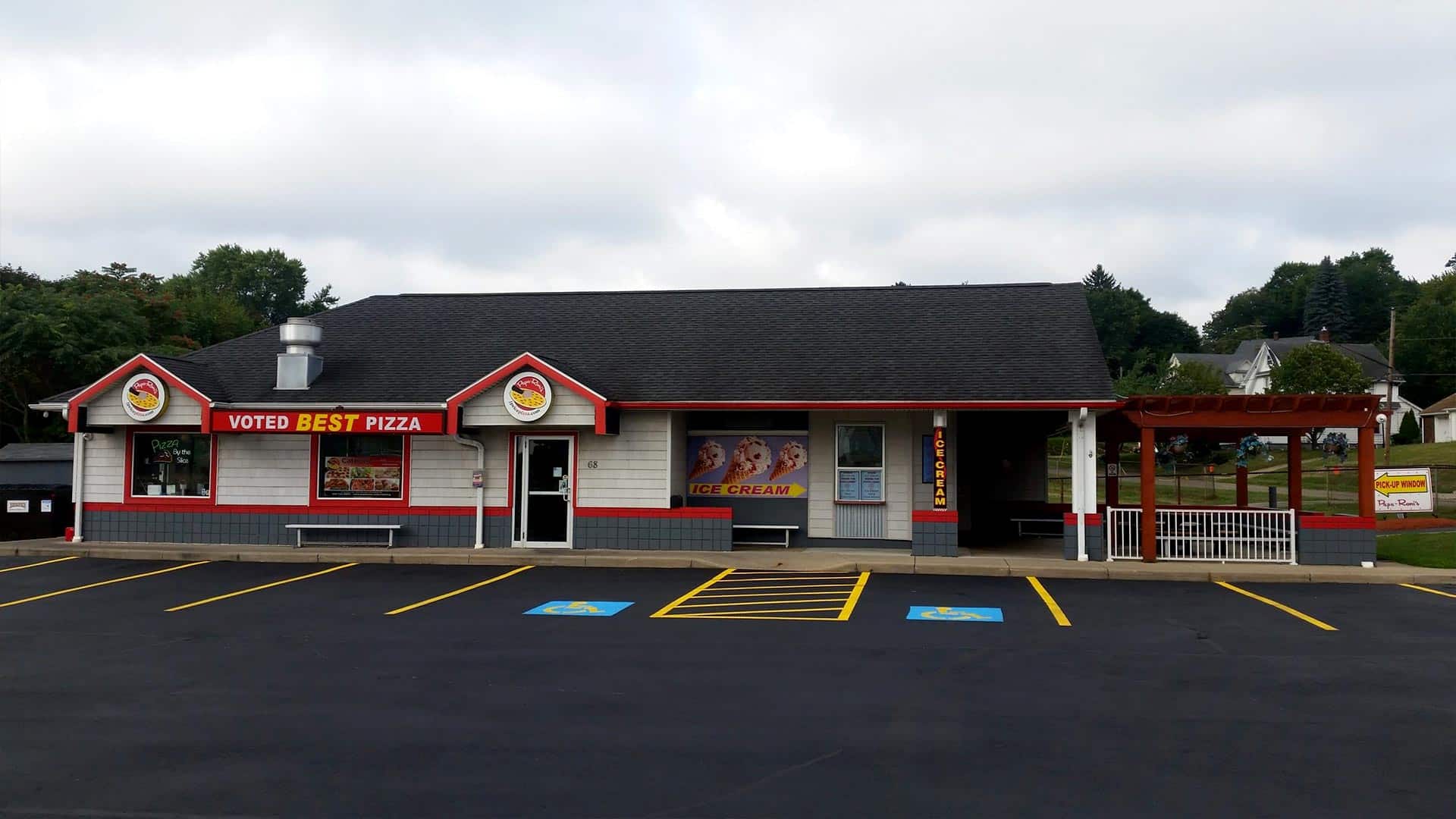 The perfect marriage – Pizza and ICE CREAM – "Mmmmmm"
Lastly, perhaps the biggest innovation Papa Roni's has brought to the local market is the addition of our delicious Katie's Korner Ice Cream. In conjunction with offering our inviting little ice cream patio, Papa Roni's was the first area establishment to offer year-round home delivery of 20+ flavors of super-premium ice cream including incredible old-fashioned hand spun milk shakes, traditional banana splits and an array of delicious sundaes along with the hand dipped cups, pints and quarts, all delivered right to your door.